MATCH SUPPORT SPECIALIST IDA WILLIAMS HONORED FOR GENERATIONAL IMPACT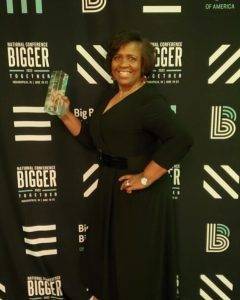 During the 2022 #biggertogether National Conference, Big Brothers Big Sisters of America honored Central Ohio's own Ida Williams as the Bob Grimm Brick Award recipient. This award recognizes an outstanding Program Staff Person who has demonstrated "going above and beyond the call of duty" to achieve higher quality matches and serve more volunteers and children in BBBS core programs.
As a Match Support Specialist for more than 30 years, Ida has facilitated generations of mentoring impact. She has committed her life to working with youth and their families and is energized knowing that each day is another opportunity to positively affect those in our community.
Ida takes a holistic approach to family engagement, understanding that the mentoring relationship does not exist in a vacuum. She has assisted families in finding food, housing, furniture- you name it and Ida has a connection to help people locate it. Through her involvement with the BBBS Big Futures program, Ida has helped countless youth navigate their next steps in life.
Although Ida will tell you she has too many great moments to pick just one, we know that one of her fondest memories is the day she welcomed Kanisha, a former Little, to the match support staff here at Big Brothers Big Sisters. Ida was beaming with pride as Kanisha attended her first staff meeting, calling it a real "full circle moment". Kanisha was a phenomenal Match Support Specialist and she continues to thrive thanks to her Big Sister Jackie, and "Miss Ida".
Ida plans to retire this July. When asked what she wants her legacy to be, she replied, "I want my legacy to be that I always did my best to help others dream a little more, grow a little more, and most of all smile a little more!"
There is no doubt that hundreds of Columbus children can now achieve their biggest possible futures thanks to the support of Miss Ida.